R410a Easy to Use Instructions
JUST CONNECT AND GET THE STATUS OF YOUR SYSTEM!!!
FIXING YOUR A/C UNIT HAS NEVER BEEN SO EASY...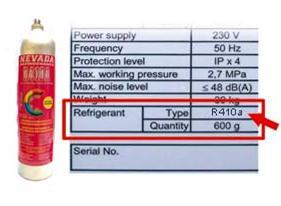 Check with which kind of refrigerant your system operates, and use the appropriate ONE STEP CAN.
Ensure the gauge is properly installed on the selected ONE STEP CAN
Turn the air conditioner system on.
NOTE: DO NOT CONNECT THE GAUGE WITH THE SYSTEM OFF OR YOU WILL DAMAGE IT!!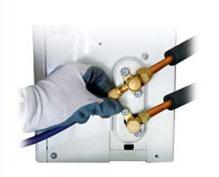 Connect to service port and wait 5 minutes while the system is running.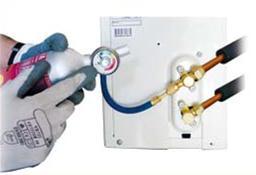 Check the gauge for the actual pressure running in the system
ALWAYS USE THE TANK UPSIDE DOWN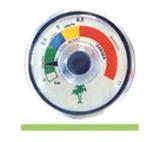 GREEN. System does not have enough
refrigerant and is not running at peak performance.
ADD REFRIGERANT
Note: always keep the tank with the outlet facing down
Push the button down for 2-3 seconds at a time and recheck the gauge before continuing

BLUE. System has the correct amount of refrigerant and is running at peak performance.
NO ACTION REQUIRED

YELLOW. System has an excess of refrigerant and is probably not running properly

RED. System shows major problems and a full service is required.
STOP RUNNING THE SYSTEM TO AVOID MORE DAMAGES
Also available at refrigerantguys.com: -single or multiple 2.2lb R410a Tanks (code 111020) -individual easy to use gauge (code 311014)