R134a Easy to Use Instruction
1)Check the automobile's manual to ensure it's operating with R134A.
2)Turn the air conditioner on.
3)Connect to LOW PRESSURE service port and wait 5 minutes while the system is running.
4)Check the gauge for the actual pressure running in the system
ALWAYS USE THE TANK UPSIDE DOWN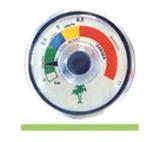 GREEN. System does not have enough
refrigerant and is not running at peak performance.
ADD REFRIGERANT
Note: always keep the tank with the outlet facing down
Push the button down for 2-3 seconds at a time and recheck the gauge before continuing

BLUE. System has the correct amount of refrigerant and is running at peak performance.
NO ACTION REQUIRED

YELLOW. System has an excess of refrigerant and is probably not running properly

RED. System shows major problems and a full service is required.
STOP RUNNING THE SYSTEM TO AVOID MORE DAMAGES